These days, 100-Yen Shops is one of most popular culture in Japan for foreigners and there's no Japan travelers who don't want to go 100-Yen Shops.
By the way, did you know there are other 100-Yen Shops besides the daiso(ダイソー)? Of course the daiso is top-ranked 100-Yen Shop in Japan, howver there are yet another stores you might not know yet. One of the most famous 100-Yen Shops, called "CANDO – Can Do(キャンドゥ)". In this article, I'm going to show "Best goods You can buy now in CANDO 100-Yen Shop".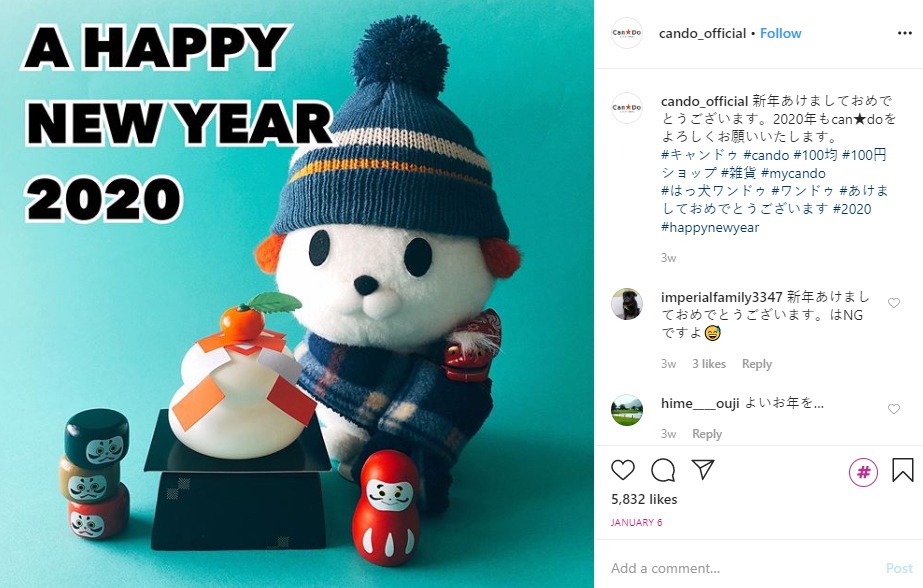 Best goods You can buy now in CANDO 100-Yen Shop
It was actually nice to have Cando's moisturizing lip mask! it's recommended! When I service a bicycle, I'm late in the morning! So this mask! It covers virtually under the eyes and the within the gauze is pile-like. The color is charming with 3 shade pastel
キャンドゥの保湿用リップマスクつてのがほんとによかった!おすすめです!自転車乗って仕事いく時、最近は早朝さぶい!ので、このマスク!目の下からほぼ覆ってくれて中はガーゼ外はパイル風だからあたりも柔らか風も通さないし暖かくてーでも息苦しさは全然ない!色は3色パステルでかわいーし😊👌🏻 pic.twitter.com/jEf4LHxAmx

— SuamaQ-Q🐝 (@harutaknt0305) November 8, 2019
My mom got a handwear cover to make sure that my son could point out an international body feeling in her hand!
The Sweet person.
Just the thumb and also first finger's fingertips have something affixed to make sure that they touch the smartphone () is excellent.
Vaseline is used by spreading out in latex and made use of only at bedtime, however it has actually boosted a little …
Restore my teenagers!
息子に手の異物感を指摘されるほどの手ぇガッサガサ母は、グローブを手にいれた!

キャンドゥのやつ。
親指と人差し指の指先だけ、スマホ触れるようになんかつけてあって()良い🖐️

ワセリンを乳液でのばして塗って、就寝時だけ使ってますが少し改善してきた…
10代によみがえれ私の手🖐️! pic.twitter.com/bo4AqIdf0L

— みそ@3y♂+1y♀ (@kAblTy5ufuGgaPd) December 5, 2019
Dove's body cream ultimately found in cande ♪
The fragrance is also good, and also the feeling is great without damp sensation.
I would suggest it!
キャンドゥでやっと見つけたDoveのボディクリーム♪
香りも良いし、つけ心地もベタつかずしっとりして良い感じ✨
おススメです! pic.twitter.com/gH6skPh28x

— 奥さん (@sbwKsyoOL2q2h0a) December 2, 2019
This is also Candu
I purchased an ellips hair mask so I bought it.
Fun to attempt ❤.
The best candow٩ (* ˙0˙ *) ۶.
こちらもキャンドゥ✨
ellipsのヘアマスクが売ってたので買ってみました😊
試すの楽しみ❤
キャンドゥ最高٩( *˙0˙*)۶#ellips #CanDo #キャンドゥ pic.twitter.com/WeI85cSq4u

— るー (@rururururuuu2) January 13, 2020
New flake seal from 100 yen shop cando.
This is the 2nd sticker label in the image of what was formerly offered to abroad supermarkets that were released.
It's so adorable.
GAIA Co., Ltd is produced (* ´ ω ` *).
100円ショップのキャンドゥの新作フレークシール☺️
以前、発売された海外のスーパーマーケットに売ってるものをイメージしたシールの第2弾です☺️
凄く可愛い😆

GAIA Co.,Ltdという所が製造されてます(*´ω`*) pic.twitter.com/tzzRiW5gMr

— タカヤン 西の犬女🐶 (@sacyosu) January 7, 2020
Conclusion
Did you find something suit for you? Whether or not, I'd be better to search for other resources where you could your life-favorite goods. It's should be Twitter or Naver matome to find out more another 100-yen-but-great items. Check it out now!