Since decades ago there's huge amount of Anime aired in Japan. In this post I'm going to show you "3 Best Anime You should watch of all time and 2020". If you know some Anime this list might contains some Anime you know already but don't worry, Which means I and you share some preference and you might become fond of the Anime. Let's go.
Angel Beats!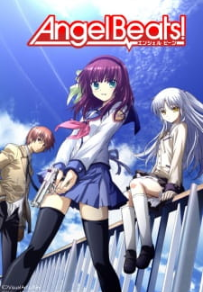 Angel Beats! is widely acknowledged as a masterpiece Anime with great storyline. Angel Beats! was originally made by Japanese game creating company "Key". The company have been created some visual novel games such as Angel Beats! or Clannad, and all of the games have been released as Anime, except the latest work "Summer pockets" released 2018.
「Angel Beats!」、見終わりました!
あえて一言で感想を言うならば、「尊い」。
涙なくして見れなかった…
本当に素晴らしい作品だと思います。2010年の作品とは思えませんでした!
あと僕は立華さん派です👍🏻#Angel_Beats pic.twitter.com/9vRMtDXpGf

— J.T。 (@t_jou7) 2018年2月11日

I have watched all episodes of the one. If I dare to say the impression of the work in a word, "sacred". I couldn't watch the one without tears. I really think this Anime is excellent. I cannot believe this one was made in 2010. By the way I like Ricca.
[[Warning! Spoilers in following Japanese review]]
Angel Beats見終わったんだけど感想を一言で言うと、

涙  腺  崩  壊  。

こんなん泣くしかないやん()
かなでが消えて主人公が泣いて惜しむシーンとか最後のEDで一人ずつ消えていくシーンとかもう泣いてばっか(´;ω;`)
良いアニメだった。ここまで泣いたのはさくら荘以来や。#AngelBeats pic.twitter.com/iuFEzJ7wIq

— GIR┃あずらく (@GIR_1357) 2019年2月17日

I have watched Angel Beats! and the impression of the work in a word is "I cried like a baby". I have no choice but to cry.
Otonashi awakens only to learn he is dead. A rifle-toting girl named Yuri explains that they are in the afterlife, and Otonashi realizes the only thing he can remember about himself is his name. Yuri tells him that she leads the Shinda Sekai Sensen (Afterlife Battlefront) and wages war against a girl named Tenshi. Unable to believe Yuri's claims that Tenshi is evil, Otonashi attempts to speak with her, but the encounter doesn't go as he intended.
Angel Beats! – MyAnimeList.net
Mirai Nikki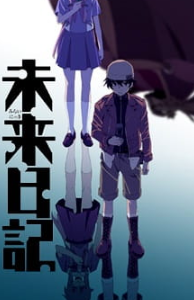 "Mirai Nikki", also known as "The Future Diary" is one of the most popular Anime in the world. Mirai Nikki was aired in Oct 9, 2011 to Apr 15, 2012, originally published as Manga. There's more than 1.2 million of people on myanimelist.
未来日記感想………ゆのこえぇぇぇえ

— 荻野ふわり (@fuwari1205) 2011年10月23日

I really scare Yuno…
Lonely high school student, Yukiteru Amano, spends his days writing a diary on his cellphone, while conversing with his two seemingly imaginary friends Deus Ex Machina, who is the god of time and space, and Murmur, the god's servant. Revealing himself to be an actual entity, Deus grants Yukiteru a "Random Diary," which shows highly descriptive entries based on the future and forces him into a bloody battle royale with 11 other holders of similarly powerful future diaries.
Mirai Nikki (The Future Diary) – MyAnimeList.net
Prison School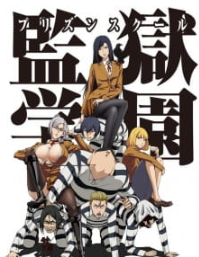 "Prison School" is a comedy Anime. Not just a comedy. This one is most hilarious masterpiece ever made. If you're fond of comedy dramas, you would love this one.
【監獄学園 プリズンスクール】第3話 感想 クッソwwかつてここまで酷い単語でググった奴がいただろう…か! : あにこ便 https://t.co/Oqz7p5GcxC
うんこmp3はこれ

— ヲタク (@aomattya) 2017年3月18日

Have you ever googled such stupid term: "shit.mp3"? Lol
Located on the outskirts of Tokyo, Hachimitsu Private Academy is a prestigious all-girls boarding school, famous for its high-quality education and disciplined students. However, this is all about to change due to the revision of the school's most iconic policy, as boys are now able to enroll as well.
At the start of the first semester under this new decree, a mere five boys have been accepted, effectively splitting the student body into a ratio of two hundred girls to one boy. Kiyoshi, Gakuto, Shingo, Andre, and Jo are quickly cast away without having a chance to make any kind of a first impression. Unable to communicate with their fellow female students, the eager boys set their sights on a far more dangerous task: peeping into the girls' bath!
Prison School – MyAnimeList.net
Conclusion
That's it. Did you find your favorite Anime? Whether or not you could find some, you can find more most popular Anime ever in myanimelist as follows. I strongly recommend you take a look once the list if you didn't know the list.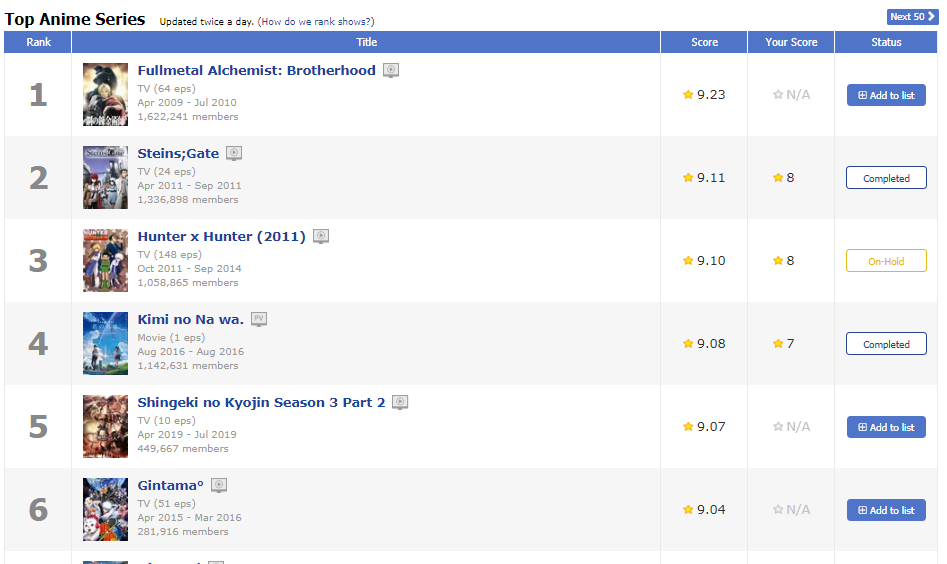 Furthermore, I have watched more than 300 of Anime in this few years. If you're interested in my recommended list of Anime, you can find the list in following site.
Fumiya_I's Anime List – MyAnimeList.net
As always, thank you for your reading. If you have something, feel free to let me know your thought by comment box below.